Site

Secured by WorldPay
SCX10 Deadbolt - 1/10th scale 4wd Almost Ready To Run Rock Crawler
Description
AXIAL SCX10 DEADBOLT 1/10th 4WD ARTR CRAWLER
The SCX10 platform is an already proven chassis-of-choice for scale enthusiasts around the globe. For this new version, Axial has taken the popular Deadbolt body from the AX10 chassis and placed it on the SCX10 which gives it a cool scale appearance and, for existing customers, a new factory body choice. The Deadbolt body with realistic driver figure, officially licensed Maxxis Trepador tires and officially licensed Walker Evans Racing wheels makes the SCX10 Deadbolt the go-to vehicle for realistic scale video action.
The axles have been designed with many features that are not available from other products on the market. Everything from the axle strength, pinion angle, caster, and ground clearance were taken into consideration when designing these axles. The result is a far superior axle that will stand-up to some severe punishment. To ensure added longevity from the start, a high-tolerance sintered diff locker is included along with hardened steel axle shafts.
In addition to realistic, fully licensed wheels and tires, the SCX10 Deadbolt features realistic scale details like a driver figure with helmet, interior details and a body design with retro inspired lines.
---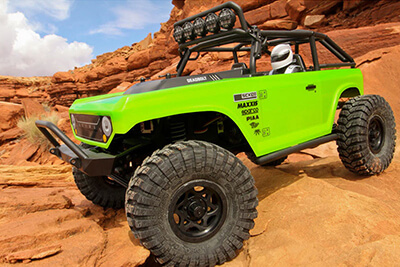 Axial SCX10 Deadbolt 1/10th 4WD ARTR
We dare you to think differently about R/C! If you can hike there, your SCX10™ will drive there! With today's efficient motor and long lasting batteries, you are only limited by your imagination and/or your physical readiness to adventure out onto a hike while driving your SCX10™. It's a great way to get in touch with nature and spend time with friends and family while having a ton of fun doing so!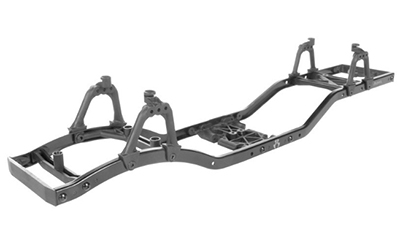 Axial SCX10 Deadbolt Metal Frame Chassis
The realistic high strength c-channel chassis frame is made of durable steel with cross bracing for reinforcement and is held together with all hex hardware. Realistic looking frame and cross braces improve chassis rigidity (torsional stiffness). Realistic shock hoops with multiple shock mounting positions allows you to adjust your suspension for maximum performance. The simplified design makes maintenance and assembly quick and easy. The contoured skid plate significantly reduces hang-ups on terrain.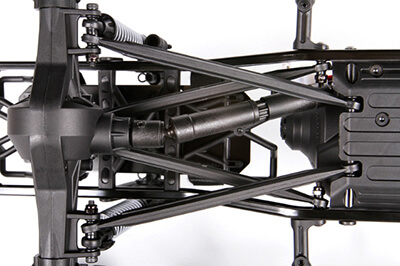 Axial SCX10 Deadbolt 1/10th 4WD ARTR
The suspension geometry utilizes a 4-Link design for the rear which is optimized to reduce axle steer and torque twist. It also helps with steep off-camber climbs by having the proper amount of anti-squat and roll characteristics. The 4-Link system also aids against suspension wrap-up in high power applications.

Axial Walker Evans Wheels and Maxxis Trepador Tires
Officially licensed Walker Evans Racing wheels are moulded from a blend of high quality nylon materials for strength and durability with a solid 12mm hex mount and dressed in black for an aggressive look. Also included is a set of officially licensed Maxxis Trepador tires moulded in the R35 sticky compound which offers superior grip. These are taller than the Ripsaw 1.9 tires which gives you more ground clearance, bump absorption and trail ruggedness for smooth, stable performance on your favourite trails.
---
Axial SCX10 Deadbolt ARTR Features:
Axial 2.4Ghz radio system
AE-5 ESC with drag brake
Metal gear tactic servo, 151 oz-in
WB8 HD Wildboar driveshafts
27T motor
Spur gear cover
Dual slipper clutch
Metal frame c-channel chassis
5 bucket light bar set
Poison spyder rock brawler bumper
4-link rear suspension
Adjustable coilover shocks
Walker Evans racing wheels
Maxxis Trepador tyres
Protective radio box
Dove-tail cage
Scale details
Spec Check:
Wheelbase: 12" (305mm)
Length: 18.1" (460mm)
Width: 8.8" (225mm)
Height: 9" (229mm)
Ground Clearance: 2.7" (68mm)
Weight: 4.65lbs (2.1kg)
Please Note: This kit in sold in ARTR (Almost Ready-to-run) format and requires a battery, charger, and 4 x AA batteries for completion.